Angela Carter on the pleasures of distraction
"All this prevarication isn't actually putting off writing; it's part of the work process."
Welcome to the 12th issue of Subtle Maneuvers. Last week, we looked at Walker Evans's late-life Polaroid experiments. This week, the British novelist Angela Carter's daily routine.
---
Angela Carter (1940–1992)
Last Thursday would have been Carter's 80th birthday (she died, of lung cancer, at age 51). Best known for her 1979 novel The Bloody Chamber, she mixed fairytales, Freud, and feminism to write stories and novels that, in the words of her biographer, Edmund Gordon, "gave free rein to the fantastic and the surreal."
In 1991, Carter described her daily routine to a reporter from the Sunday Times Magazine. At the time she was living in London with her longtime partner, Mark, and their seven-year-old son, Alex. After a disastrous first marriage, an escape to Japan and a pair of unconventional love affairs there, a return to England and the launch of her literary career, and the birth of her only child at age 43, it was a domesticated existence different from what Carter had expected for herself—and more enjoyable than she would have guessed. "When I was 30, if I'd known what life would be like at 50, I'd have slit my wrists," she said. "What I wanted then was a bit of flash."
On weekdays, Carter said, she woke at 7:30 a.m. and spent the first part of the morning getting her son fed and dressed. "There was a Fifties film called Woman in a Dressing Gown, and that's what I become for the next few hours," she said. "I put on this egg-stained dressing gown and become instantly squalid as I make breakfast."
After breakfast, Mark would take Alex to school and then go to school himself; a construction worker when he and Carter met (when he was 19 and she was 34), he was then studying to become a teacher. Meanwhile, with the house empty, Carter would take a shower—or not—don "baggy trousers and a longish sweatshirt," and set to work:
By about 10.30 I've slowly ascended to the top of the house where I work. Mark is always suggesting that I take up a flask or an electric kettle on the grounds that if I want coffee I come down to the kitchen where I find something to do or read. But I don't see why I should be secreted away like some sacred object. I think I should be more integrated into the house.

I find endless things to distract myself. I can research something like, say, alchemy, indefinitely. I adore libraries; I never know what I'm going to find. All this prevarication isn't actually putting off writing; it's part of the work process. I always spend hours writing in longhand first. I have two favourite pens. One is a Parker 51 which was given to me by the Daily Mirror for judging a young writers' competition, and the other is a cartridge pen I picked up in the United States for about two dollars. If I use that pen I write big; if I use the other I write small.
Sometimes Carter went out for lunch with her agent or her publisher—"which is terribly pleasant," she said—but more often she worked until mid-afternoon, when she went to pick up Alex from school, many days doing a bit of shopping along the way.
In the evening, Carter usually made dinner—she was an indifferent housekeeper but a good cook—and watched television with Mark before going to bed at 10:30 or 11:00 p.m. If she had a deadline, she might work through the night; "I'd have a couple of unrefreshing hours' sleep and then carry on working," she said. If there was no deadline, she might still wake in the middle of the night. "Sometimes I wake at three in the morning with a hot flush—feeling furious!" she said. "I lie there, thinking about life, death and the universe, and then just as the birds are beginning to chirp I drift off back to sleep."
Sources: Ann McFerran, "A Day in the Life of Angela Carter,"
Sunday Times Magazine
, August 25, 1991; Edmund Gordon,
The Invention of Angela Carter
(New York: Oxford University Press, 2017).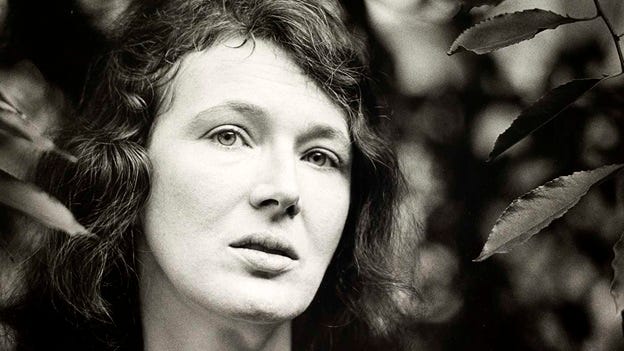 Angela Carter. Image via the British Library
---
A DISGRACE TO HER SEX
---
WRIGGLING THROUGH
Having trouble finding time for a creative project alongside your other daily obligations? Or feeling stuck, blocked, or discouraged during the time you do have? Email your dilemma to subtlemaneuvers@substack.com (or just reply to this email) and I'll do my best to provide some concrete advice based on my research into great minds' work habits.
Past advice, on . . .
---
Thanks for reading! This newsletter is free, but if you're feeling generous here are a few ways you can support me and my work:
Order my Daily Rituals books from Bookshop.org or (if you must) Amazon

Forward this newsletter to a friend, or share it on your social-media feeds