Christo and Jeanne-Claude's daily routine
"We don't eat, you know. Food is very unimportant."
Welcome to the latest issue of Subtle Maneuvers. Last week: James Baldwin's creative process. This week: a typical day in the Christo–Jeanne-Claude household, circa 2000.
---
Christo (1935–2020) and Jeanne-Claude (1935–2009)
Following the sad news of Christo's death on May 31st—13 days shy of what would have been his 85th birthday—I spent some time reading up on his and Jeanne-Claude's 50-year artistic partnership, and ran across the following description of the married artists' daily routine, written by Wolfgang Volz, their close friend and the exclusive photographer of their projects.
First, a bit of context: The Howard Street residence mentioned here is the five-story cast-iron building where Christo and Jeanne-Claude moved in 1964, shortly after arriving in New York from Europe, and where they lived and worked for the rest of their lives. Initially, they rented the top two floors (the monthly rent in 1964 was $70 per floor, or about $580 in today's dollars), but in 1973 they were able to purchase the entire building. At the time of the following description—published in an epilogue to Burt Chernow's 2000 Christo and Jeanne-Claude: A Biography—the ground floor was rented to a stationery store, the second floor was a reception area for potential buyers, the third floor was used for framing and shipping Christo's artworks (the sale of which funded their large-scale installations), the fourth floor was the couple's living quarters and home office, and the top floor was Christo's private studio. Volz writes:
Life at Howard Street follows the same routine. Christo gets up shortly before 7:00 A.M., shaves, drinks coffee, and eats fruit for breakfast. He works at his studio until the mail arrives, usually around eleven o'clock. Then he reads the New York Times and opens the daily stack of mail. Every other day, Christo walks down to an art-supply store on Canal Street to buy paper, charcoal, pencils, wax crayons, and glue. He then remains in his studio until the afternoon. . . .

At around 11:00 A.M., Jeanne-Claude's assistant arrives. Lunch consists only of water and vitamin C pills. Answering every fax and piece of mail as quickly as possible has always been one of Jeanne-Claude's abiding principles. The archive needs attention, and the phones ring constantly—calls from team members working on a project, collectors, gallery owners, museum curators, and fans. Christo and Jeanne-Claude often receive guests in the afternoon. . . . Three times a week, Christo and Jeanne-Claude get shiatsu massages to keep them in good shape.

They listen exclusively to music by Mozart. It has become an unwritten law that whenever Christo and Jeanne-Claude appear, any music other than works by Mozart should be turned off. "It's very easy," says Jeanne-Claude. "We like only the best." Mozart is played all day at Howard Street at a fairly low volume. . . .

In the evening, if they go out or have guests, Christo shaves a second time and changes his clothes. At 7:30 P.M., there are often guests in the downstairs floor; Christo serves drinks. For a number of years now, dinners have taken place at a nearby restaurant. Because there are always collectors, engineers, specialists, and other collaborators among the guests, most conversations center on the latest project. Every now and then, Christo and Jeanne-Claude eat their meals at home. They often have the doggy bags from the previous evening's dinner. Jeanne-Claude hates to throw away food, as she dislikes wasting anything. After dinner, Christo and Jeanne-Claude work for another hour or two.
For more about the artists' diet, I consulted The Museum of Modern Art Artists' Cookbook, a wonderful 1977 book of interviews with, and recipes from, 30 artists or artist couples. (It is, sadly, out of print.) Christo and Jeanne-Claude's entry includes recipes for zucchini-garlic soup and a "quick and easy filet mignon dinner party." The latter was Jeanne-Claude's specialty, though, according to the accompanying interview, by the 1970s she rarely cooked anymore. (She used the oven as storage space for dishes.) Instead, the cornerstones of their diet were yogurt, cheese, and salads—and when their son, Cyril, was an infant, the entire family ate baby food. According to Christo, they simply didn't have the time for anything more involved. "We don't eat, you know," he said. "Food is very unimportant. I don't have time for it. We eat well only once a day—in the evening. Sometimes at midnight, sometimes at 9 o'clock. My weight hasn't changed in twenty years."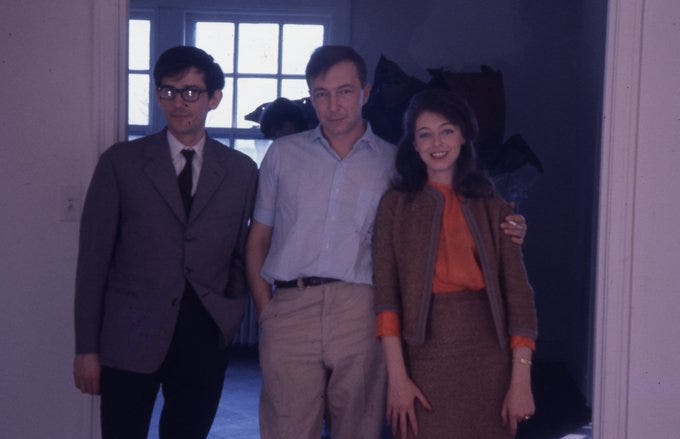 Christo and Jeanne-Claude with Jasper Johns (center) in Johns's home in New York City, 1964. Photo: Deborah Solomon via Twitter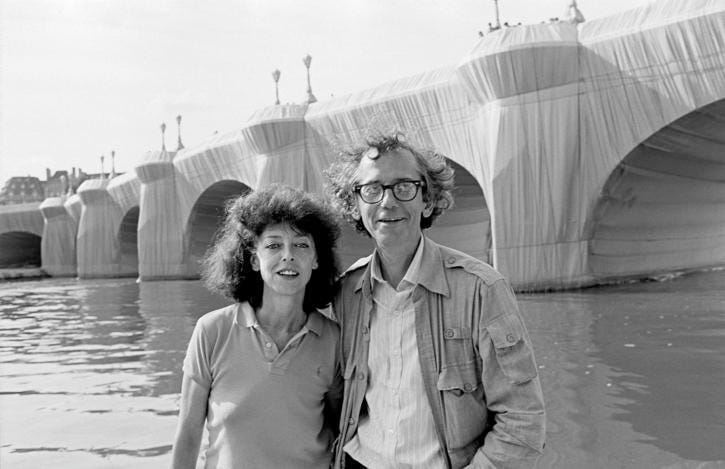 At The Pont Neuf Wrapped, Paris, 1985. Photo: Wolfgang Volz / © 1985 Christo, via christojeanneclaude.net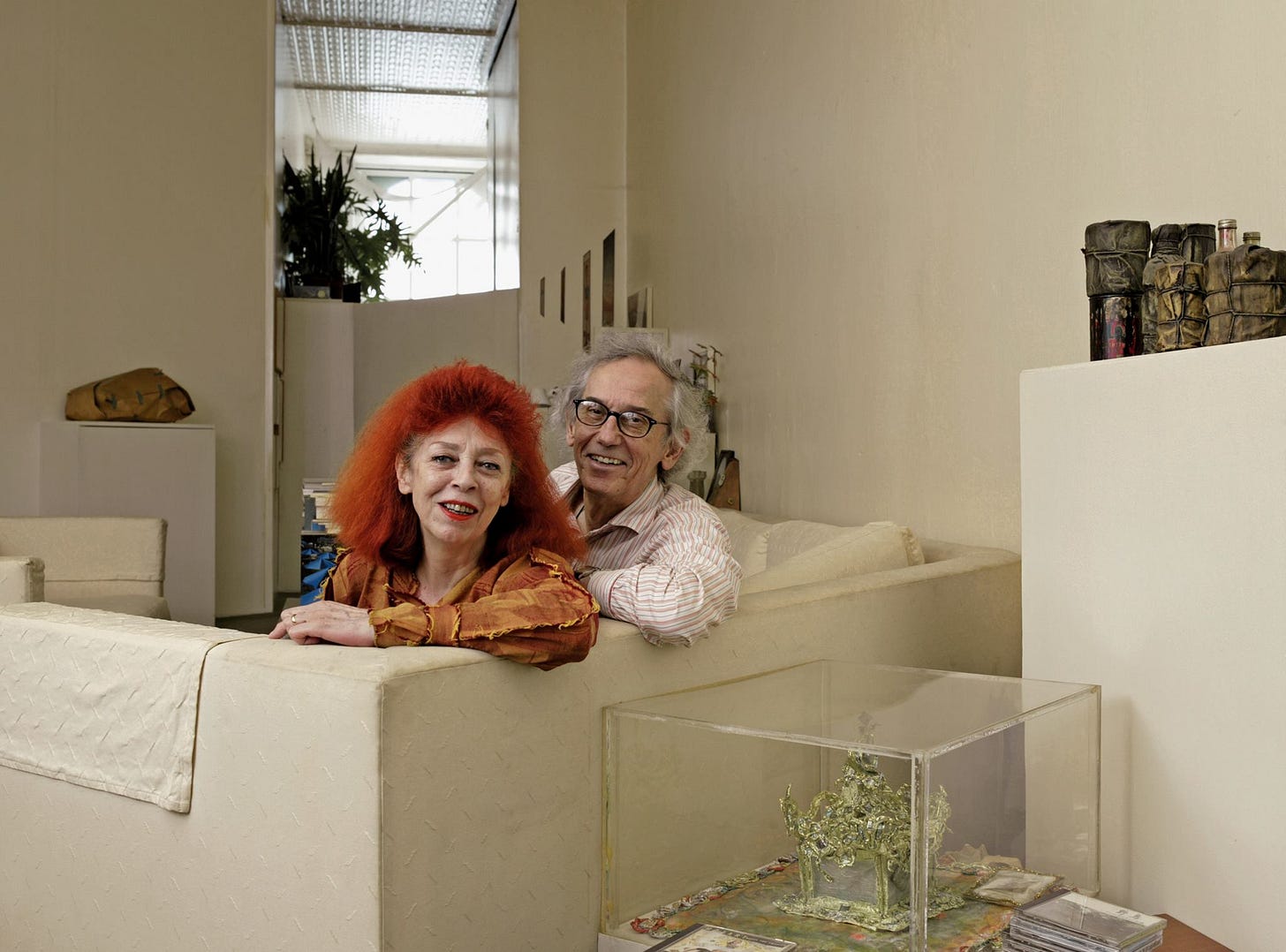 An undated portrait from the artists' official Facebook page
For more about Christo and Jeanne-Claude, I recommend Dodie Kazanjian's obituary on Vogue.com, which includes lots of interesting details about their working relationship, their finances, and their everyday habits (including the fact that they both exclusively wore Issey Miyake!)
---
"QUIET GIVES YOU PATIENCE"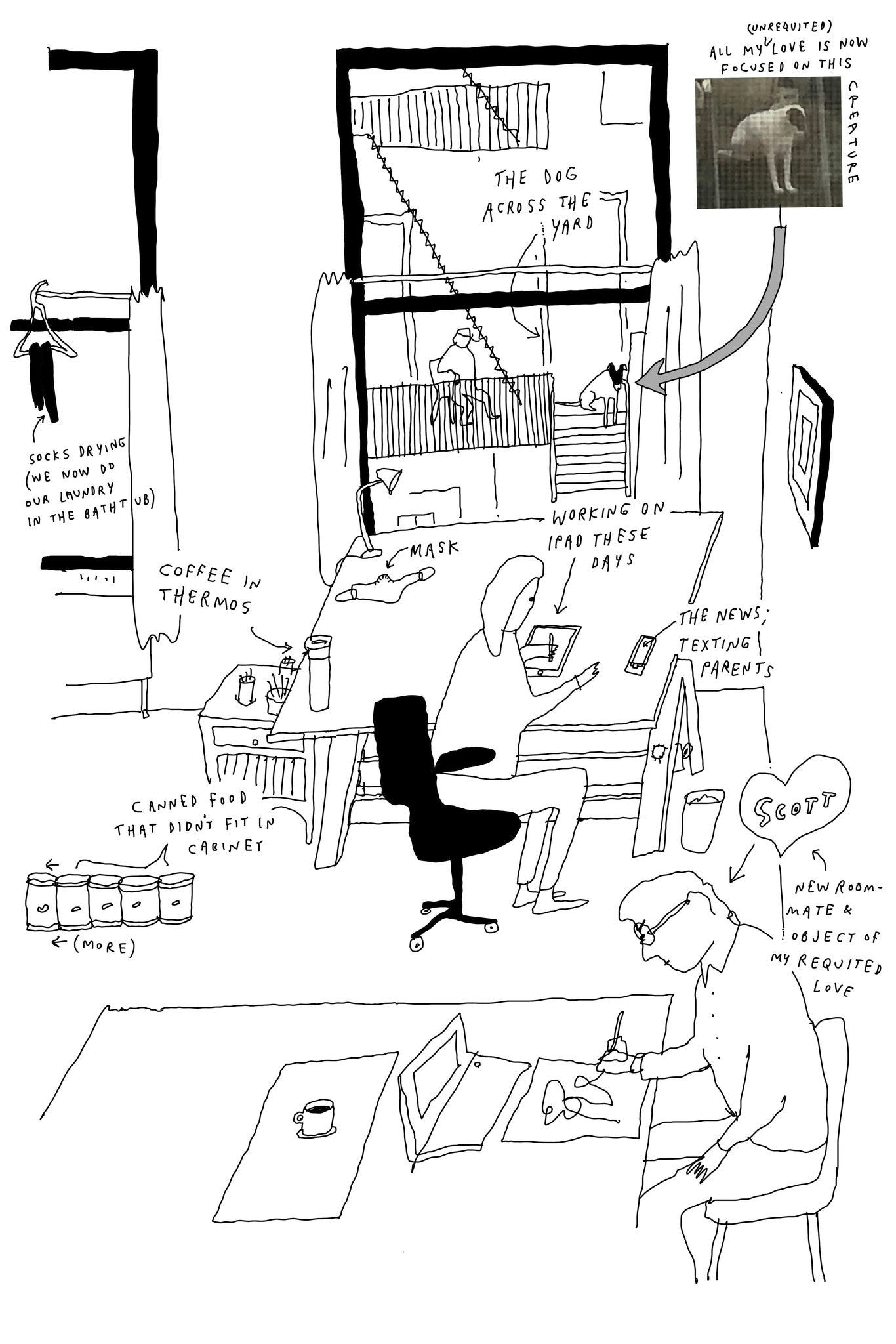 I'm a big fan of the cartoonist Liana Finck, so I was delighted to find her Sunday routine in yesterday's New York Times. Read it here.
---
WRIGGLING THROUGH
Having trouble finding time for a creative project alongside your other daily obligations? Or feeling stuck, blocked, or discouraged during the time you do have? Email your dilemma to subtlemaneuvers@substack.com (or just reply to this email) and I'll do my best to provide some concrete advice based on my research into great minds' work habits.
Previously, I've tackled readers' questions on:
---
Thanks for reading! This newsletter is free, but if you're feeling generous here are a few ways you can support me and my work:
Order my Daily Rituals books from Bookshop.org or (if you must) Amazon

Forward this newsletter to a friend, or share it on your social-media feeds