Edgar Allan Poe, procrastinator
"I know too well the unconquerable procrastination which besets the poet."
Welcome to the latest issue of Subtle Maneuvers. Previously: advice for a people-pleaser.
---
Edgar Allan Poe (1809–1849)
After the news broke that Supreme Court nominee Amy Coney Barrett's White House reception on September 26 may have been a coronavirus super-spreader event, a number of people have pointed out the similarities between recent developments and Edgar Allan Poe's 1842 short story "The Masque of the Red Death."
Over the weekend, I read Poe's story, which is quite on-the-nose indeed. In it, one Prince Prospero has retreated with "a thousand hale and light-hearted friends" to a secure location, while a deadly pestilence ravages the general population. But, Poe writes, the Prince and his entourage feel that they "might bid defiance to contagion. The external world could take care of itself. In the meantime it was folly to grieve, or to think." (Sound familiar?) Naturally, they are proven wrong. At an elaborate masked ball, Red Death himself appears and "one by one dropped the revellers in the blood-bedewed halls of their revel."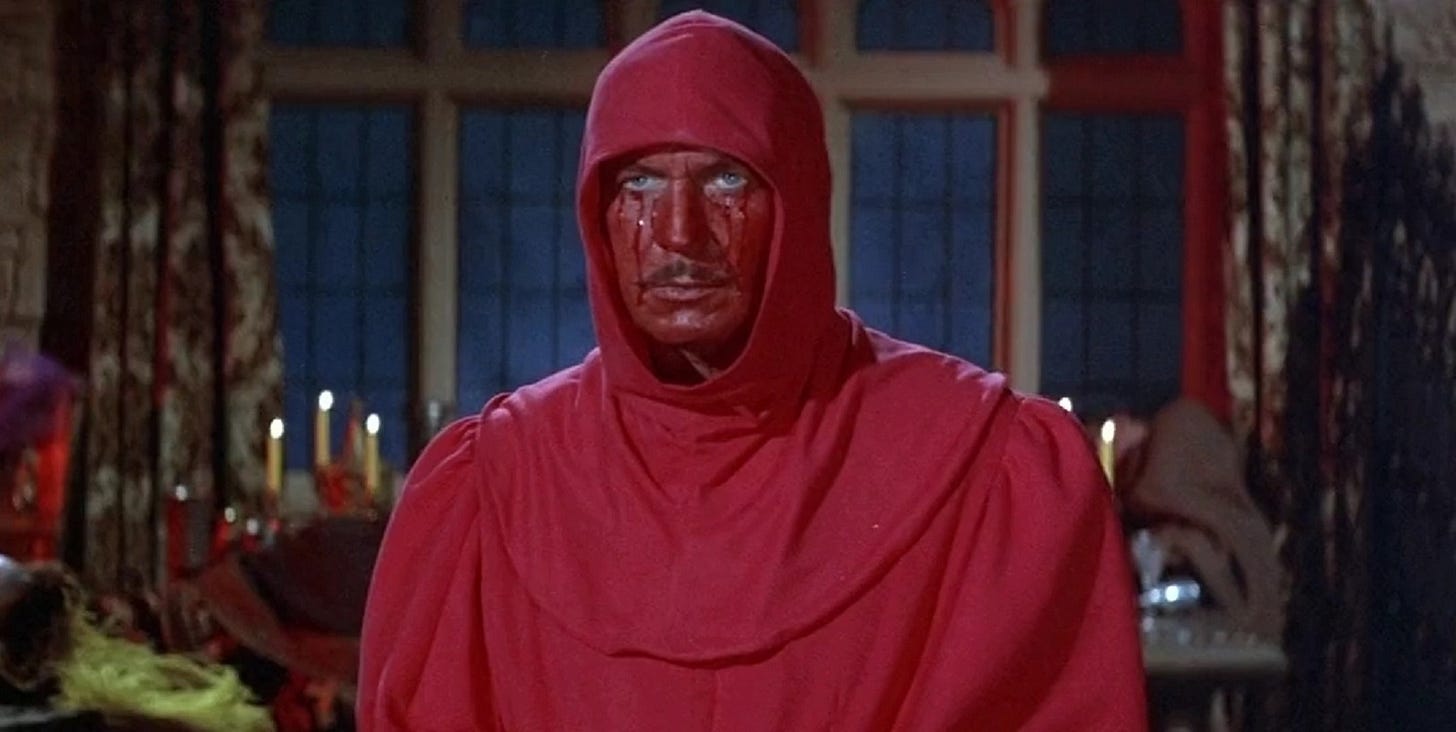 A still from Roger Corman's 1964 movie adaptation of Poe's "The Masque of the Red Death," starring Vincent Price (with cinematography by
Nicolas Roeg
!)
Melodramatic? Well, yes—it is Poe after all, who could never resist lavish, macabre set pieces. After reading the story, I was inspired to look into Poe's writing habits—and was not surprised to learn that this expert in torture and guilt was a confirmed procrastinator. In an 1846 letter to his fellow poet P. P. Cooke (what a name!), Poe wrote:
My Dear Sir,—Never think of excusing yourself (to me) for dilatoriness in answering letters. I know too well the unconquerable procrastination which besets the poet.
But Poe also knew the antidote to procrastination, at least for him: It was to wait until he felt inspired, and then go on a long walking holiday, which would lead to a burst of writing while also preventing distractions. In his letter to Cooke, Poe continues:
Were I to be seized by a rambling fit—one of my customary passions (nothing less) for vagabonding through the woods for a week or a month together—I would not—in fact I could not be put out of my mood, were it even to answer a letter from the Grand Mogul informing me that I had fallen heir to his possessions.
Poe was 37 when he wrote this; by this point, he had been employing his walking trick for at least a couple years, as evidenced by an 1844 letter he sent to the editor, critic, and poet James Russell Lowell in which he described the same habit:
My Dear Mr Lowell,

I can feel for the "constitutional indolence" of which you complain—for it is one of my own besetting sins. I am excessively slothful, and wonderfully industrious—by fits. There are epochs when any kind of mental exercise is torture, and when nothing yields me pleasure but solitary communion with the "mountains & the woods"—the "altars" of Byron. I thus rambled and dreamed away whole months, and awake, at last, to a sort of mania for composition. Then I scribble all day, and read all night, so long as the disease endures.
Poe's labelling this "a disease" is significant. A number of contemporary observers have speculated that Poe suffered from bipolar disorder, which may have accounted for his extreme mood swings—though I suspect that even those of us who enjoy relatively balanced mental health can relate to Poe's experience of being "excessively slothful, and wonderfully industrious—by fits."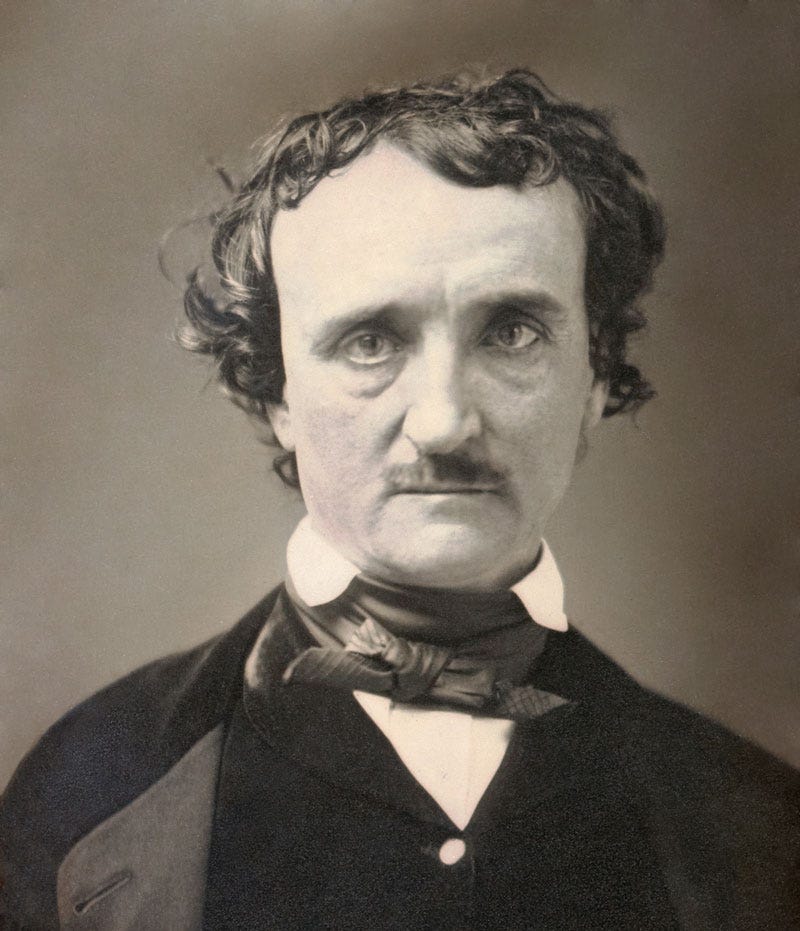 Edgar Allan Poe in June 1849, four months before his death at age 40
---
🇬🇧📕👀💛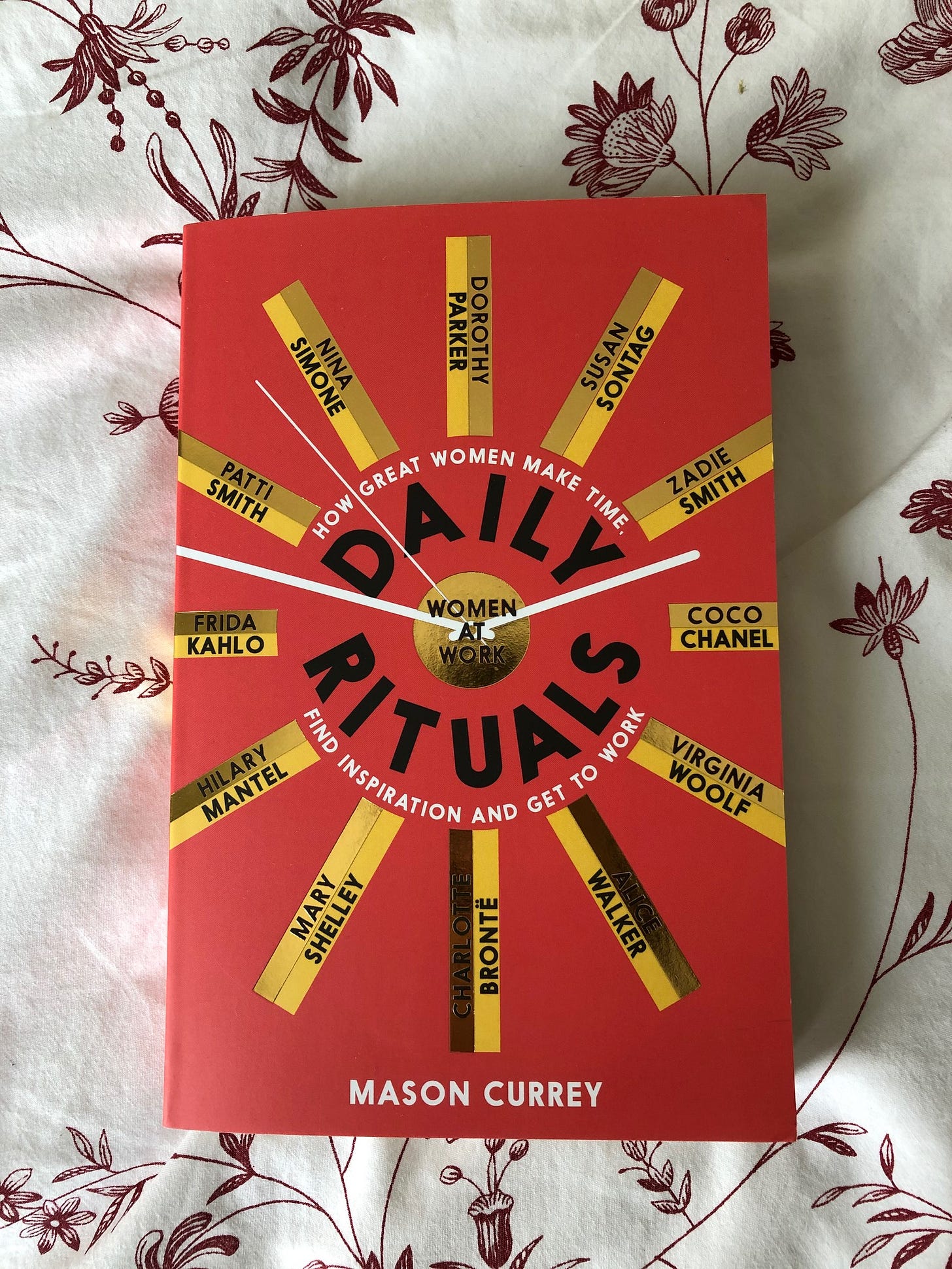 For UK readers, the paperback edition of Daily Rituals: Women at Work comes out on October 15, with a lovely new coral-and-gold cover by the wonderful designers at Picador. You can pre-order it from Amazon, Foyles, Hive, or Waterstones.
Last week I also answered some questions from the UK-based writing coaches at Prolifiko, and confessed "my one dumb trick" as a writer. Read the full Q&A here.
---
YOUR ADVICE FOR A PEOPLE-PLEASER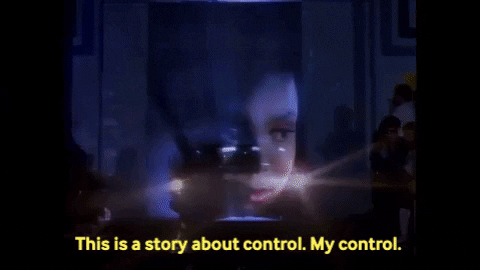 In last Monday's newsletter, I offered advice to a writer who asked: "How do I have more control over how I spend my time?" In my answer, I put an emphasis on forming new habits—but I also asked readers to leave their own thoughts on a discussion thread, and I really enjoyed reading everyone's ideas about how to hold yourself accountable to your creative work.
Also, on Instagram, the painter Susan Chen chimed in with her four-tiered system for categorizing incoming requests, which I thought was worth sharing here:
Prioritize (immediate)

Important (can be delayed)

Delegate

Say No!
It's not too late to join the discussion. Or, if you have a creative dilemma of your own, feel free to email me at subtlemaneuvers@substack.com (or just reply to this email) and I'll do my best to provide some concrete advice based on my research into great minds' work habits.
---
Thanks for reading! This newsletter is free, but if you're feeling generous you can support my work by ordering my Daily Rituals books from Bookshop or (if you must) Amazon.