Eileen Myles on writing in a pandemic
"It's been a real workshop with solitude."
Welcome to the latest issue of Subtle Maneuvers. Previously, we looked at John Cage's fascination with fungi.
---
Eileen Myles (b. 1949)
Last Tuesday, the poet Eileen Myles led a Zoom tour of the art in their Marfa, Texas, house as part of the Performance-in-Place series hosted by the Rubin Foundation. It was a fun, freewheeling ramble through one writer's art collection, with brief discursions on works by Zoe Leonard, Nicole Eisenman, Jack Pierson, Robin Bruch, and several others, as well as a peek into Myles's renovated "poet's shack" in the backyard (essentially a New York studio apartment transplanted to the west Texas scrub) and several guest appearances by Honey the pit bull.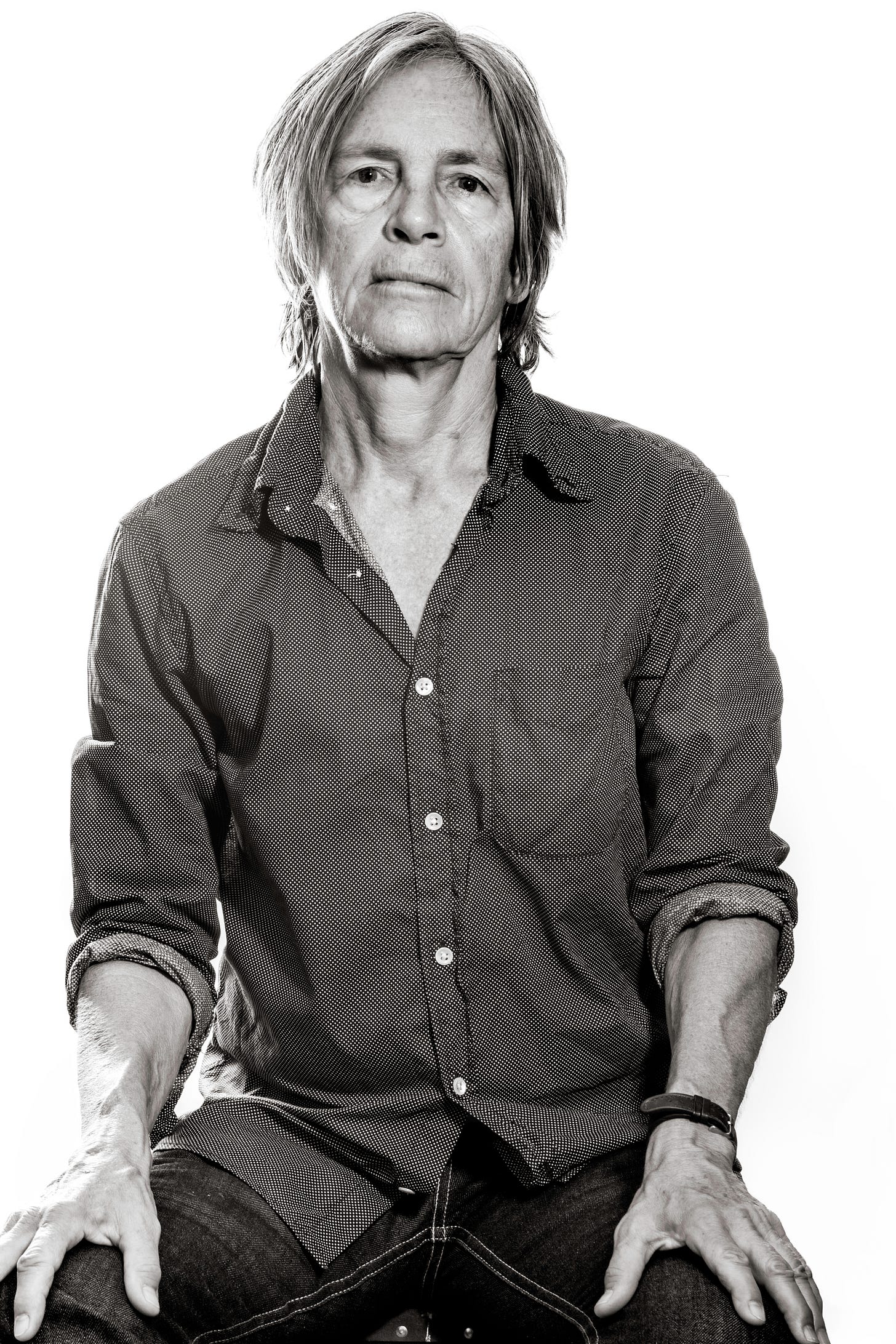 Eileen Myles portrait by Shae Detar, via EileenMyles.com
In an audience Q&A after the tour, Myles (who uses third-person pronouns) also talked a bit about their daily writing life during this strange moment of social distancing. Myles normally splits their time between Marfa and New York's East Village, where they have lived in the same rent-controlled one-bedroom apartment since the 1970s, but for the pandemic they're staying put in Marfa. One audience member asked if they had encountered "creative or generative barriers" during the pandemic, and, if so, how they had overcome them. Myles replied that, while they normally find that social events can be an interruption to their work, now they're grappling with "the opposite problem of having unending privacy and aloneness." To combat that, Myles said, "I've had to use physical exercise, phone calls, and different schedules and it's just like—I still haven't resolved it." Myles continued:
I have had to become very deliberate in terms of how I work and how I stop and how I refresh myself. Because otherwise it just keeps being more and more of—because I've been here alone with my dog—more and more of me and uninterrupted time. And it's weird how it's not so fruitful necessarily, and it's not so flowing. Because, for one thing, if you're alone, the pit you fall into is the pit of yourself. And so I've had to create obstructions and ways to get out of that inner space, so that I can come back refreshed and want to be with myself, as opposed to, "Ugh, it's you again." So it's been a real workshop with solitude. And I think I've learned a lot.
For those unacquainted with Myles, they are the author of 20 books, including I Must Be Living Twice: New and Selected Poems, Afterglow (a Dog Memoir), and the autobiographical novel Chelsea Girls, which was reissued to critical acclaim in 2015 (and which I highly recommend!). For a very quick introduction to Myles's poetry, this video of them reading the poem "Merz" in 2017 is a good place to start:
Bingeing on Myles clips on YouTube last week, I also ran across a Nowness video where Myles shares some insight into their usual poetic process. I loved this part in particular:
It's like often nothing happens when you stay still. I always feel like I write something out of a transition of some sort. You know, like, coming into my apartment thinking, "Another day in which I haven't done any writing." And then that thought fills me with anxiety and I walk in and I write something. . . .

I mean, a poem is just a list. It's a kind of sharing. It's just an exploration of the filing system of your brain as it moves through space and time. There's plenty of holes to think about other things. Write a line or two and stop. Just to really be trusting the mechanism of desire, in a way—desire for certain language to sit over some curve of a moment. It'll be like [opens their notebook], "One egg is better than two, 'cause of all the longing it leaves." Where's that going?

I'll just get a line, and then a few days later I'll get another line, and I'll just be in a mode where that's how it's happening and maybe this is adding up to a poem. Or maybe it's just a ton of garbage.
Watch the full video here. And if you're sad to have missed Myles's Zoom art tour, the Rubin Foundation said that it will be posting the video online; I'll be sure to include a link in a future issue of the newsletter.
**UPDATE: The video is now available here.**
---
ARTIST RELIEF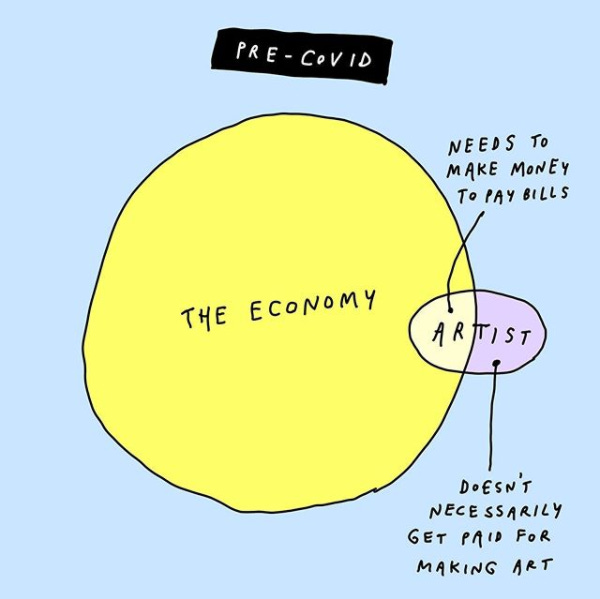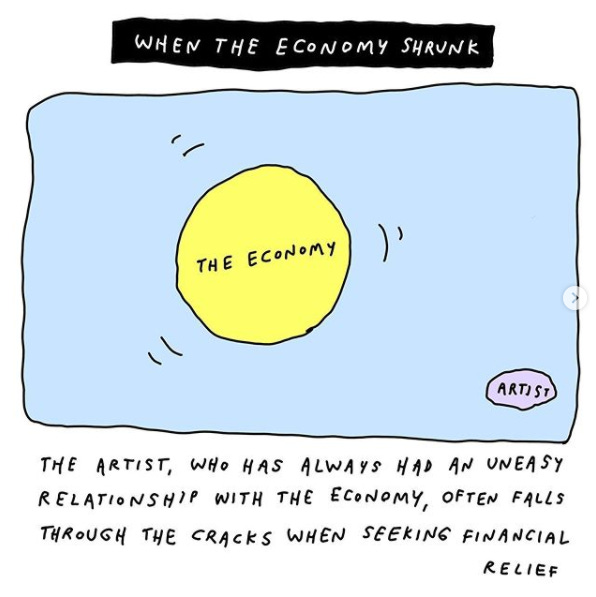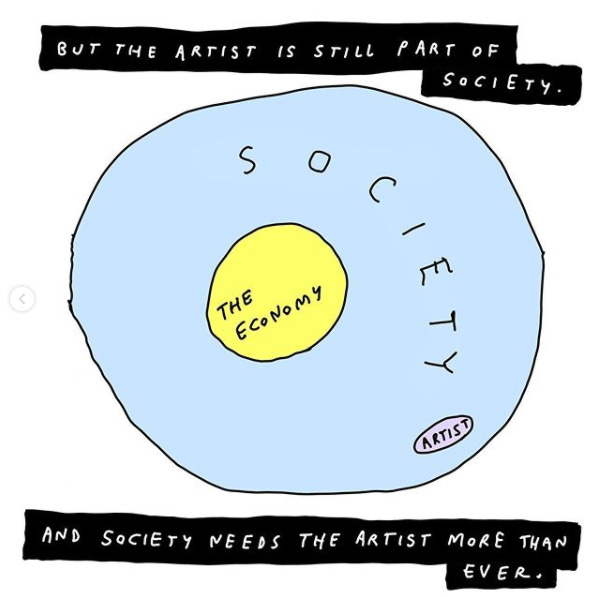 The organization Artist Relief is distributing $5,000 grants to artists facing dire financial emergencies due to COVID-19; find out more here.
Illustrations by the great Liana Finck, via @artistrelief
---
WRIGGLING THROUGH 🐛
The advice column will be returning next Monday; in the meantime, feel free to peruse my past advice on:
Have a question of your own? Email it to subtlemaneuvers@substack.com (or just reply to this email) and I'll do my best to provide some concrete advice based on my research into great minds' work habits.
---
Thanks for reading! This newsletter is free, but if you're feeling generous you can support my work by ordering my Daily Rituals books from Bookshop.org or (if you must) Amazon.