Eva Hesse's diaries
"I SOMETIMES WONDER WHAT HAPPENS TO ALL THOSE HOURS IN A DAY."
Welcome to the latest issue of Subtle Maneuvers. Last week, we visited the Italian opera composer Giuseppe Verdi's country villa. This week: the German-born American sculptor Eva Hesse
---
Eva Hesse (1936–1970)
Last Friday was the 50th anniversary of Hesse's death, at age 34, of a brain tumor. By then she had been making art for more than a decade, but it was only in the last five years of her tragically short life that Hesse began working with latex, fiberglass, and plastic to build the brilliantly eccentric, playful, and creepy sculptures that made her one of the most distinctive and influential artists of the mid-to-late 1960s.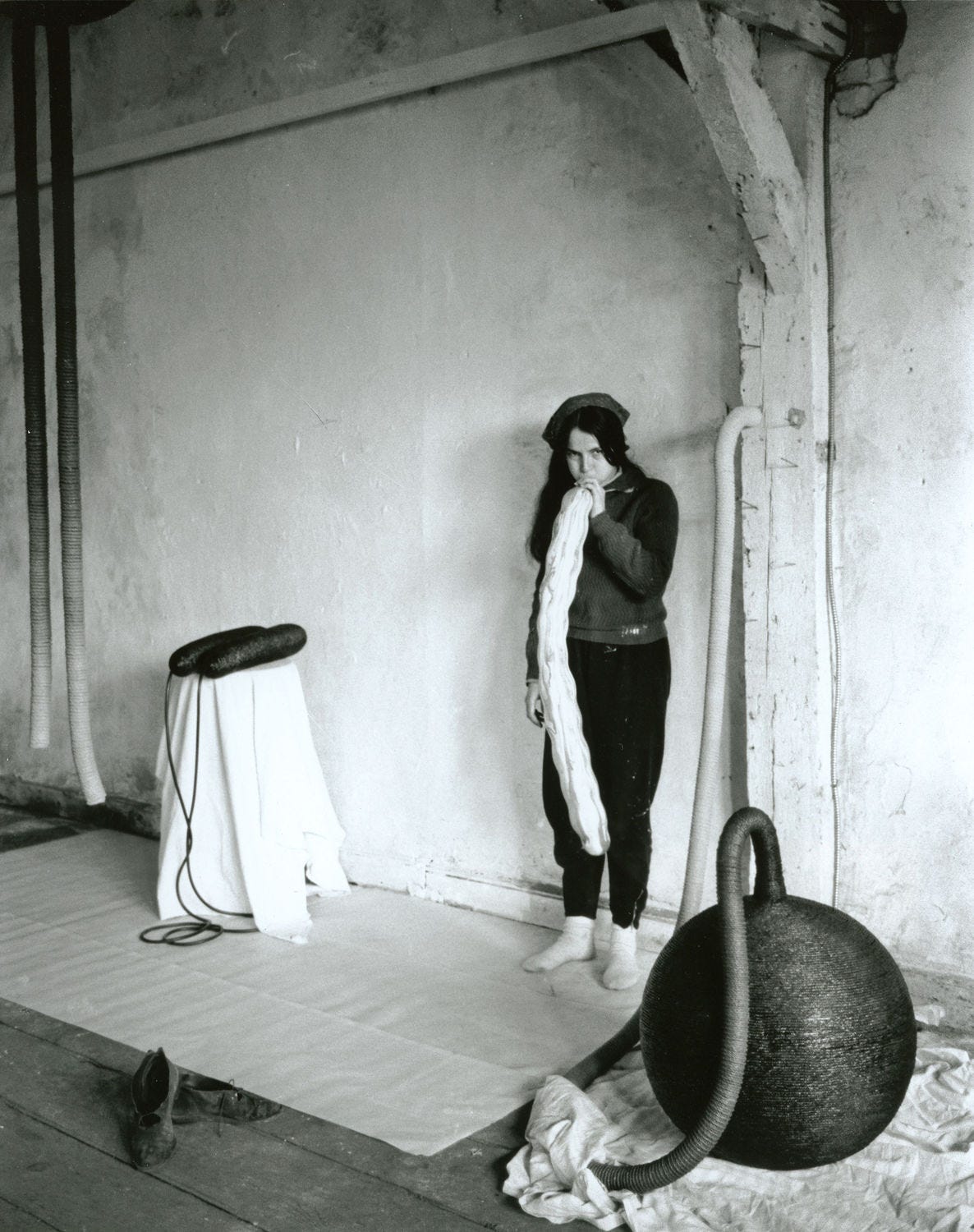 Eva Hesse in 1966. Photo: Gretchen Lambert via Hammer Museum
In 2016, Hauser & Wirth published Hesse's diaries in a beautiful clothbound paperback volume. They are not an easy read, filled as they are with the artist's self-doubts and anxieties—"Everything for me personally is glossed with anxiety," she wrote in 1965—the frustrations of her short-lived marriage to a fellow sculptor, and her almost constant struggle to find and stick to a productive work schedule. And yet it is also inspiring to watch Hesse persevere in spite of all the obstacles in her way. Below are some of the entries that jumped out at me; I hope they'll resonate with some of you as well.
From New Year's Eve, 1955 (the very first entry in the book):

From 1959:

1962:

1964:

1965:

For more on Hesse, I highly recommend Lucy R. Lippard's monograph Eva Hesse, first published in 1976 and reissued in 1992. Copies are pretty expensive online but you can check if libraries in your area have it via WorldCat.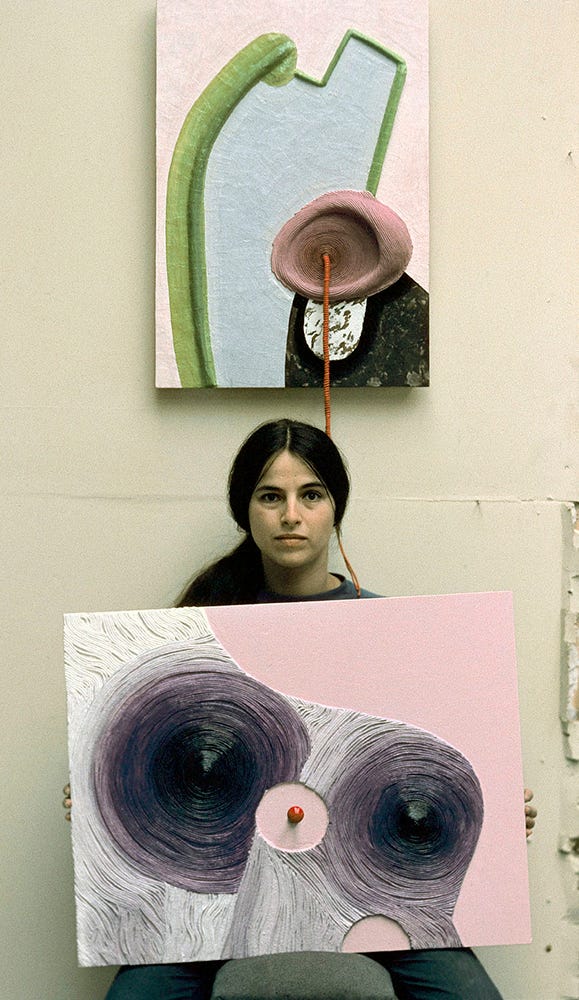 Hesse in an undated photo by Manfred Tischer. Image via ArtNews.com
---
WRIGGLING THROUGH
Dear Subtle Maneuvers,

As a creative project during the lockdown, I've started translating poetry. So far I've only done one translation, but I am troubled by feelings of guilt. 

I have a six-year old daughter and also a partner with a demanding job. My job is flexible but sometimes also needs focused attention, along with all the regular obligations (cooking, cleaning, shopping). There was also a death in the family a few weeks ago. I have elderly parents in another part of the world (so far they are OK). 

Sometimes I ask myself, Is this the time to translate poetry? I am taking care of my family, staying safe, donating money. After that, I want to read and write. Still I feel guilt. I understand that I cannot really go and save the world, but should I feel bad about writing for my own pleasure, self-improvement? 

I try to tell myself that by getting excited about doing something creative, maybe that energy can transform into something good. Even if a few people read and enjoy the writing, is it still worth doing? I guess I am trying to quantify my efforts, which is probably not the right way to go about this. —S. in Leiden, The Netherlands
Dear S.,
When I first received your letter a couple weeks ago, my immediate impulse was to give you reassurance and permission. With whatever authority I could claim as a self-appointed newsletter advice columnist, I wanted to tell you that I think it is 100-percent OK for you to translate poetry during the coronavirus pandemic. Not only is it OK, I planned to write, it's admirable and impressive. As you say, your work may resonate with readers and give them some enjoyment during this difficult time; not only that, it may help you recharge and be a better parent, partner, employee, neighbor, and citizen.
Since then, I haven't changed my mind exactly. But following George Floyd's death at the hands of the police last week, and the nationwide protests and violence that have erupted here in the United States, I've been thinking that maybe I shouldn't be so quick to reassure. I'm not saying that you shouldn't take time to translate poetry, or to read and write—by all means, I think you should do those things. I'm just saying that if you feel a sense of guilt or discomfort right now, it may be important to sit with that as well.
After all, the things you write about in your letter—reading, writing, translating but also being troubled by feelings of guilt—are not necessarily in opposition. Sometimes reading and writing requires dredging up uncomfortable feelings. Sitting with those feelings can make you a better writer (or translator); and doing literary work can help you process those feelings.
Right now there is so much happening in the world that is profoundly upsetting. I don't know how we're going to begin to address all the crises occurring at once, but I think part of the solution has to be individuals feeling these crises. The trick is not to be so overwhelmed that you're immobilized. It's not an easy trick. I think we're all figuring it out right now. I hope we are.
Readers, please feel free to send in your thoughts on S.'s situation by replying to this email, and I'll consider writing more on this subject in a future issue. And for those distraught over police brutality and racial injustice in America, please consider donating to Black Lives Matter, the Minnesota Freedom Fund, the George Floyd Memorial Fund, The Bail Project, or other organizations doing essential work right now.