Grace Jones's dressing-room necessities
Plus: Advice on figuring out what your "thing" is
Welcome to the 13th issue of Subtle Maneuvers. Last week: productive puttering with Angela Carter. This week: shucking oysters with Grace Jones.
---
Grace Jones (b. 1948)
The Jamaican–born singer, songwriter, and style icon turns 72 tomorrow, and her birthday seems like a good excuse to take a look at her contract rider, which lays out the precise conditions necessary for hosting the performer and her entourage (and which was printed as an appendix to her 2015 book I'll Never Write My Memoirs). Here, for example, is the list of essential items to be placed in Jones's dressing room:
GRACE'S dressing rooms shall be equipped with:

Dressing Room 1:

6 Bottles of Louis Roederer Cristal Champagne
3 Bottles of French Vintage red wine (e.g. St. Emilion, Medoc, Bordeaux)
3 Bottles of French Vintage white wine (e.g. Sancerre, Pouilly Fuisse)
2 Dozen Findeclare or Colchester Oysters on ice (unopened)—(Grace does her own shucking.)
2 Sashimi and Sushi platters for 8 people
6 fresh lemons
1 Bottle of Tabasco sauce
1 Fresh fruit platter for 8 people
6 Bottles of Coca Cola
12 Bottles of still and sparkling water
12 Bottles of fresh fruit juices
Wine glasses, champagne flutes, tumblers (all glass, no plastic)
Cutlery and sharp knife
1 Oyster knife
1 Make up mirror (no neon strip lighting, only opaque white bulbs)
Fresh towels, clothes hangers, clothes rail
3–4 Bunches of flowers—prefer lilys and orchids
Sofa and arm chairs
The above list is just for Jones's personal dressing room; there are additional (shorter) lists of essentials for the separate wardrobe room that must be next door, as well as for a second dressing room and a production office for her staff. In addition, the rider includes extensive instructions for Jones's flight and hotel booking, though these are not as diva-esque as you might expect. Obviously she flies first class. For the hotel, Jones requires a presidential suite with two "large separate" bedrooms, two bathrooms, 24-hour room service, and "full spa facilities," including a steam room—a very nice setup, yes, but could you really imagine her spending the night in anything less generous?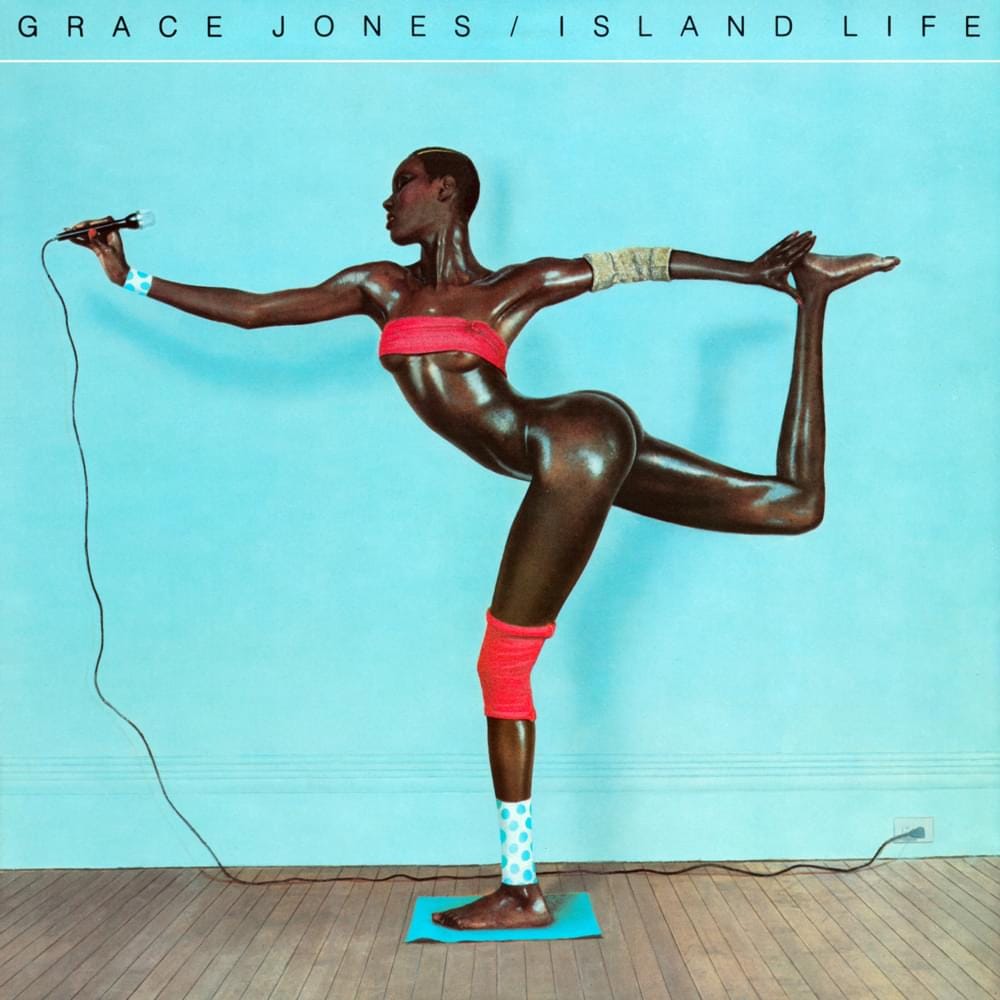 The cover of Grace Jones's 1985 album Island Life, demonstrating a basic full-body stretch for everyone to try while working from home
---
WRIGGLING THROUGH
Early last Monday morning I received a pair of emails from very different parts of the world describing very similar creative dilemmas. For this latest installment of my occasional advice column I thought I would attempt to tackle them together:
I've been struggling for a very long time to focus on a singular creative pursuit. I find myself drawn to and inspired by so many different things—but none of them feel like the be-all and end-all. So many of the artists you talk about in both Daily Rituals and your newsletter seem to be driven to do their "thing," whatever it may be, above all else. Sure, some of them struggle with discipline, but none of them seem to question what they're supposed to be doing. Even those who describe the process of creating as "a nightmare" find the will to do it anyway—because they feel they need to. 

I guess if I had to sum all of this up into a question, it would be this: Does your life's passion, your "thing," make itself known to you in some obvious, romantic way? Or do you just choose something you like and commit to it wholeheartedly? How are you supposed to know what your be-all and end-all is? —Madison in Birmingham, Alabama
And the second letter:
My dilemma is feeling like I need to do something big, and not knowing what that something is. And whatever it is there isn't enough time. I know it's silly. I know none of us know what we're doing, but it feels like everyone is contributing, writing books, sending out newsletters, making YouTube videos, and starting small online businesses and I'm just flailing around with no idea and no direction. 

I have long dreamt of becoming a writer one day, of writing a book. What about? No idea. Still, I keep trying to write. I've got digital documents scattered all over with hundreds of thousands of word counts and trains of thought. I've got journals with handwritten lessons and quotes and habits tracked and measured. I've got books half-read, books earmarked filled to the brim with notes, and books never opened. I hoard words, sentences, observations, definitions and meanings. I categorize them and make plans and collect articles, but I never do anything with them apart from trying to improve just myself. I try sharing it online, but I hate writing online. SEO, bah. So I quit, because all of that drains me after a while and the self-doubt kicks in. I'm not sure if I actually like writing or if it's something I'm trying to prove. —Pamela in Utrecht, the Netherlands
Dear Madison and Pamela,
First, I want to say how much I empathize with your dilemmas. Wanting to throw yourself into something, some grand, meaningful, generative work, but not knowing what it is or how you should decide (or whether the thing you decided on is actually the right thing)—that's a super frustrating spot to find yourself in.
Madison, you said that some people seem to just know what their passion is—and I think there's some truth to that. A lot of famous artists did know that they wanted to paint or write or make music or whatever from a pretty young age. But not all of them did, and not figuring it out until later is more common than you might suspect.
To take just one example: A few weeks ago, I sent out a newsletter about the sculptor Anne Truitt and the "ultimate" working conditions she savored at a celebrated artists' colony. What I neglected to describe was Truitt's path to becoming a sculptor. Truitt didn't go to art school; she studied psychology as an undergraduate and later worked as a psychiatric research assistant and a nurse's aide. At the same time she began writing poetry and short stories. It wasn't until her late twenties, after her marriage to a Washington, D. C., journalist, that Truitt switched from writing to sculpture, and then she had to juggle her new practice with being the primary caretaker of three young children. She didn't truly find herself as an artist until she was 40, when a visit to the Guggenheim Museum in New York brought her face to face with the work of Nassos Daphinis, Ad Reinhardt, and Barnett Newman. Truitt was so excited by their work that she couldn't sleep that night; returning home, her own work "suddenly erupted into certainty."
It makes you wonder what would have happened if Truitt hadn't gone to that exhibition. Would she never have found her thing? Maybe—but I kind of doubt it. All her adult life Truitt was after something, and each new phase got her a little closer to an activity that scratched that itch. The reason her work could finally "erupt into certainty" is that it had been percolating away under the surface for so long. And if that exhibition hadn't finally prompted the eruption I bet something else would have.
Madison, you wrote: "So many of the artists you talk about in both Daily Rituals and your newsletter seem to be driven to do their 'thing,' whatever it may be, above all else." What I want to suggest is that figuring out that thing is part of the thing.
In other words, you might think: Oh, at least that person knows her thing is, say, writing, and even if she's struggling at least she's struggling with writing. But writing is just the vehicle. What's she struggling with are ideas, a worldview, a hunch about the way things are, a pull toward certain nooks and crannies of human experience. And she probably gravitated to writing because it's a good vehicle for her unique set of concerns and obsessions.
So one way forward may be to stop dwelling on the thing you should be doing. Instead, think about what pieces of your individual worldview you want to communicate (or just understand better). What hunch about how things are do you harbor that isn't being reflected in the things you're reading, watching, looking at, or listening to? Or, conversely, what books, movies, works of art, or pieces of music do resonate with you at some core level?
This last part is important, because I think one practical remedy for both of your dilemmas is to read, watch, look, and listen more. At the early stages of a creative endeavor, the input is more important that the output. (Actually, this may be true at all stages.) The solution to most writing problems is to read more, and I suspect the same is true of all creative fields. And if you're not sure what your field is, well, lucky you, you get to take in a whole bunch of different stuff while you figure it out.
Pamela, for your situation in particular, I wonder what would happen if you dramatically shrunk your writing time and expanded your reading time. I know, I know—the solution to your dilemma couldn't possibly be that simple . . . but maybe it is that simple?
I also wanted to address your idea that "everyone is contributing" while you're "just flailing around." I know that feeling well. But I can guarantee you that so many of the books, newsletters, and YouTube videos you're seeing started as someone just flailing around. Indeed, flailing around may be the only starting point for a creative project (and some projects feel like flailing around for virtually their entire duration!) So the good news about your situation is that you may be on exactly the right track. The bad news is that it's super goddamn frustrating right now. Making time to read more might help. So might finding a writing partner or a writers' group, someplace where you can share your progress and get some feedback without feeling like you have to launch an online platform and worry about SEO, etc.
I would say don't get discouraged, except getting discouraged is part of the process too. And it may be something that gets incorporated into the work. Being discouraged, after all, is a universal human experience, and I think readers are hungry to know how others worked through it and found their path.
I feel like I've written a lot and still barely scratched the surface of your questions. As an experiment, I'm also opening up a new discussion thread where readers can leave their thoughts about your dilemmas. Please, everyone reading this: If you've figured out what your thing is, how did you do it? Leave a comment here, and I'll be reading and weighing in throughout the week.
Having trouble finding time for a creative project alongside your other daily obligations? Or feeling stuck, blocked, or discouraged during the time you do have? Email your dilemma to subtlemaneuvers@substack.com (or just reply to this email) and I'll do my best to provide some concrete advice based on my research into great minds' work habits.
---
WHY YOU SHOULD ALWAYS HAVE ICE ON HAND
Anecdote from Calvin Tomkins's wonderful Off the Wall
---
POSITIVE PROCRASTINATION
In a recent episode of their podcast Staying In, Emily V. Gordon and Kumail Nanjiani talked to the director Edgar Wright, who has developed a delightful coronavirus routine:
I get up pretty early. . . . Usually by six o'clock I am up, whether I have set my alarm or not. And then sometimes, like, my moment of solace on a daily basis is to be up and [before doing anything] to sometimes have watched an entire two-hour movie before anybody else is up. I've been doing that quite a lot. . . . I watched this Japanese film by Ozu called Late Spring which was so beautiful, and it was somehow the perfect thing to watch at six-thirty in the morning, sitting on the couch with a little espresso and a glass of water. It's the best.
After a brief digression, Wright continues:
My day has usually been a movie at six in the morning, and then maybe later, if I feel like I've got some work done or achieved something, like done a little bit of work or done some emails or done some calls, or been for a walk, I feel like I can treat myself to a four o'clock movie. And then maybe in the evening, it'll be—if it's really a day where, like, no work is gonna get done, then it's a morning movie, a two o'clock movie, a four o'clock movie, and then it's something else in the evening. . . . I feel like I'm doing some kind of correspondence film-history course that doesn't exist. . . . I write films and I direct films, so it never feels like I'm wasting time, or "That was two hours I'll never get back." . . . It's positive procrastination.
Listen to the full episode here (the exchange about early-AM movie watching starts at 17:55). And for more on productive procrastination, check out my 2013 Slate article on the subject.
---
Thanks for reading! This newsletter is free, but if you're feeling generous here are a few ways you can support me and my work:
Order my Daily Rituals books from Bookshop.org or (if you must) Amazon

Forward this newsletter to a friend, or share it on your social-media feeds