James Baldwin on the role of the artist
"Artists are here to disturb the peace."
Welcome to the latest issue of Subtle Maneuvers. Last week, we peeked inside Eva Hesse's diaries. This week, James Baldwin's creative process.
---
James Baldwin (1924–1987)
One of Baldwin's great themes as a writer was self-examination. Repeatedly, in his essays, he stressed the necessity of individuals doing the difficult work of seeing themselves as they really are. Only then, he argued, can change occur at a societal level. As he wrote in "The Creative Process" (1962): "We know, in the case of the person, that whoever cannot tell himself the truth about his past is trapped in it, immobilized in the prison of his undiscovered self. This is also true of nations."
For Americans, telling the truth about the past inevitably means recognizing the centrality of white supremacy in the nation's history and institutions. Beginning to undo this system will require, Baldwin wrote, "the most radical and far-reaching changes in the American political and social structure." But, again, he argued that the starting point was self-examination: acknowledging and accepting one's shortcomings, fears, and the "labyrinth of attitudes" individuals adopt to shield themselves from reality.
None of this is easy. "The barrier between oneself and one's knowledge of oneself is high indeed!" Baldwin wrote. "There are so many things one would rather not know!" And the role of the artist, he thought, is to break down this barrier. In a 1961 radio interview with Studs Terkel, Baldwin explained how this works:
Art has to be a kind of confession. . . . The effort, it seems to me, is: If you can examine and face your life, you can discover the terms with which you are connected to other lives, and they can discover, too, the terms with which they are connected to other people.

This has happened to every one of us, I'm sure. You read something which you thought only happened to you, and you discovered it happened 100 years ago to Dostoevsky. This is a very great liberation for the suffering, struggling person, who always thinks he is alone. That's why art is important. Art would not be important if life were not important, and life is important.

Most of us, no matter what we say, are walking in the dark, whistling in the dark. Nobody knows what is going to happen to him from one moment to the next, or how one will bear it. This is irreducible. And it's true for everybody. Now, it is true that the nature of society is to create, among its citizens, an illusion of safety; but it is also absolutely true that the safety is always necessarily an illusion. Artists are here to disturb the peace.
For the artist, this is a solemn responsibility, and a guarantee of being in continual difficulties. It requires working and working to communicate something essential—"The invention has to be organic, not a gimmick," Baldwin said—and it also requires that one "actively cultivate that state which most men, necessarily, must avoid: the state of being alone."
For Baldwin, finding that aloneness meant leaving the United States for long stretches of time, and it also meant writing almost exclusively at night. "After the day is over, and supper is over, I begin, and work until about three or four a.m.," Baldwin told the Paris Review. This was a habit he formed as a teenager, when he played the role of substitute father to his younger siblings and had to wait until the kids were asleep to write. (Their actual father was a terrifying presence around the house who could barely interact with his children without flying into a rage.) He continued the schedule after leaving home and working a string of day jobs: as a laborer at an army depot; at a meatpacking plant; and as a waiter at Calypso restaurant in Greenwich Village. By the time Baldwin became an established writer, the habit had stuck.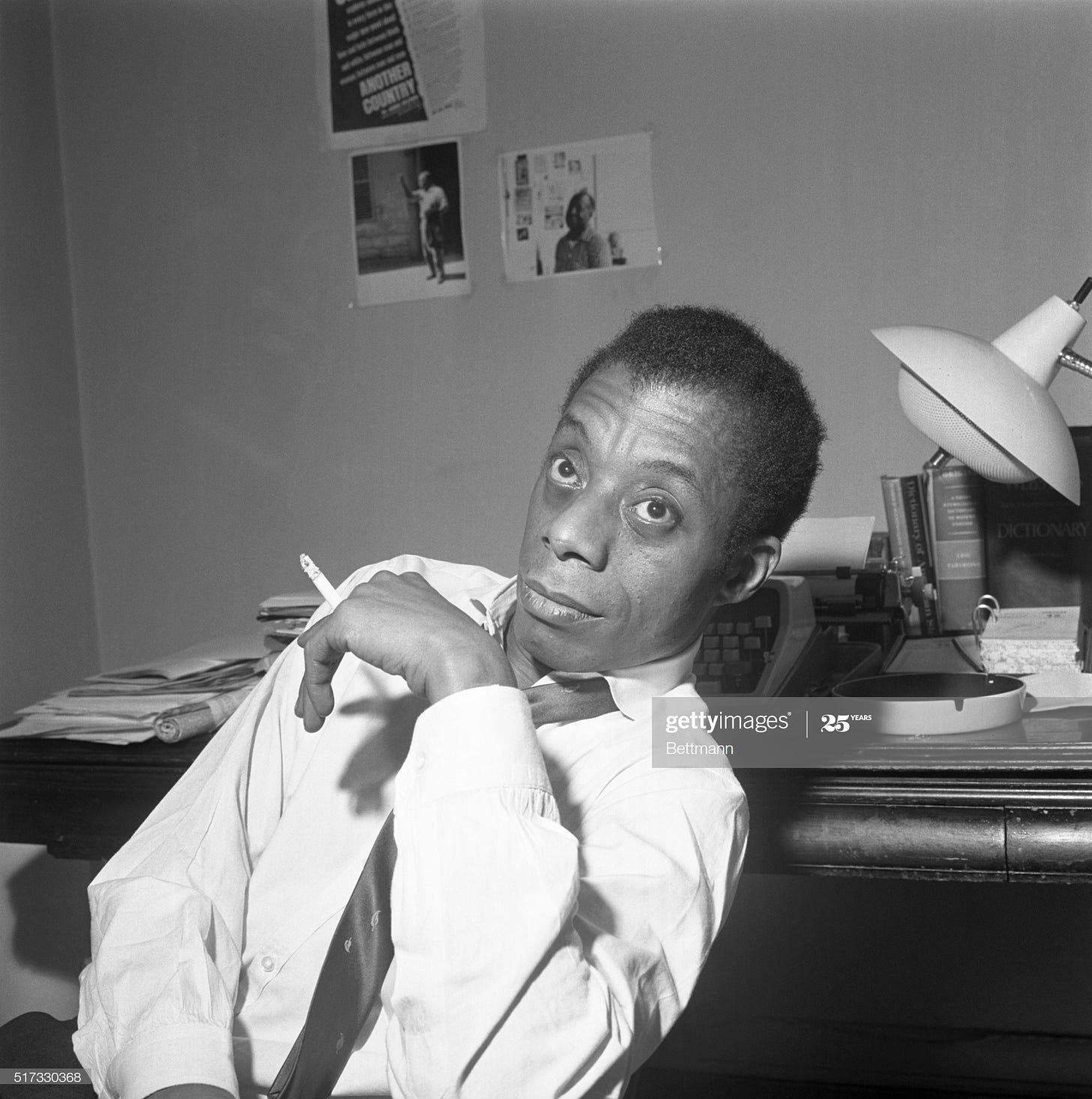 James Baldwin in 1963. Photo: Bettmann, via Getty Images
If all this emphasis on solitude and struggle and self-examination makes being an artist sound like a terrible burden—well, Baldwin probably wouldn't disagree. "The most difficult thing for me to accept in my life was that I am a writer and that there are no excuses," he said in 1973. "I must get my work done. It is not up to the world to tell me how to do it, it is up to me. The important thing is the work. The world's judgment is something I have to live with. I learned how to do that a long time ago. In the meantime, I'm working. I can't do more than that."
---
FURTHER READING (AND VIEWING AND LISTENING)
For more James Baldwin, I highly recommend the 2017 documentary I Am Not Your Negro; it's currently streaming on Amazon Prime, or you can rent it on iTunes or YouTube for $0.99.
If you're wondering where to start with Baldwin's non-fiction, The New Yorker recently resurfaced his 1962 essay "Letter from a Region of My Mind" (which was reprinted in Baldwin's 1963 book The Fire Next Time under the title "Down at the Cross.")
If you're looking for contemporary voices responding to and enlarging upon Baldwin's ideas, I've heard great things about the 2015 essay collection The Fire This Time, edited by Jesmyn Ward, which I'm planning to read after I'm done going through Baldwin's Collected Essays.
For more on the origins of American racism—and what people (and especially white people) can do to oppose structural racism—I found this conversation with the Racial Equality Institute's Suzanne Plihcik illuminating.
---
Thanks for reading. This newsletter is free—but, if you can, I hope you'll join me in donating to Black Lives Matter or one of the other organizations doing essential work to fight racial injustice and police brutality.