Maxine Hong Kingston on finding "a corner of one's own"
"I can write anywhere—inside, outside, even at the beach."
Welcome to the latest issue of Subtle Maneuvers. Previously, we looked at Christo and Jeanne-Claude's Mozart-centric daily routine.
---
Maxine Hong Kingston (b. 1940)
Hua Hsu's recent New Yorker profile of Maxine Hong Kingston inspired me to do a little digging into the 79-year-old author's writing habits. What I found sounded . . . familiar. "I think my main problem is discipline," Kingston told a reporter in 1977, a year after her breakthrough book, The Woman Warrior, was published.
Writing is a very painful act. I try to start writing in the mornings, but I fool around and put it off to wash dishes or sharpen my pencils. I'm pretty regular on writing every day, but sometimes I start late and end up finishing in the afternoons.
As the years went on, however, Kingston seemed to get better at the discipline part. Here's a reporter from the New York Times Book Review profiling her in 1980:
Mrs. Kingston is a tremendously disciplined writer—"like an accountant" with her time. By an enviable combination of her disposition and Hawaii's accommodating climate [Kingston moved to Hawaii in 1967], she said matter-of-factly, "I can write anywhere—inside, outside, even at the beach." Her working habits reflect her attitude toward writing: that it is an integral part of living and as natural and necessary as eating.
Kingston mentioned her ability to write anywhere in a number of interviews; even during her struggles with self-discipline, the writing setting was not terribly important to her. Kingston said this was a legacy of her childhood; she was the third of eight children, and, growing up, space was always at a premium. After a 1989 lecture, an audience member asked Kingston about Virginia Woolf's famous concept of "a room of one's one." Kingston replied:
In most of my life, I've never had four walls and a floor and a roof. I have found that it really is perfectly adequate to have a corner of one's own. I thought it was the most richness when my parents had a pantry and I rearranged all the cans and preserves and everything so that I'd have a shelf of my own. I put my books and papers there and then I cleared out a space and I put a table in there and a chair and I locked the door. That was the most space that I had for a long time.
More important than the physical space for writing, she added, was the imaginative drive—the desire "to really concentrate and shut out noises and enter other worlds." And, she added, "you also have to know what you want, you have to know yourself well enough to know how you work best."
One final detail about Kingston's writing process: She was apparently notorious at her publisher for substantially revising her books after pre-publication bound galleys were sent out to book critics, causing all sorts of headaches for everyone involved. In the case of her 1989 novel Tripmaster Monkey, for instance, reviewers criticized the ending for being tedious—but Kingston had completely rewritten the ending in between the galleys being issued and the final book being printed, meaning that book buyers would find a completely different ending in their copies than the one criticized in reviews. (After that Kingston stopped reading reviews of her work entirely.) In 1989, an interviewer suggested that this must "drive your editors crazy." "Oh yes," Kingston replied.
Knopf charged me a thousand dollars. They reset the galleys. In fact, they sent out a new set of galleys, which I think never caught up with the reviewers. . . . I can't help it. That is my pace. This is why I try not to give them my books until I do think they're ready, because I think that the various drafts are like building a tower. When you get to the top you can see visions, and you can further, and you can see higher. Sometimes it's not till I get to the galleys that I can really see up there. I don't mean to rewrite; it's just that, as I'm reading it, I see what I ought to do.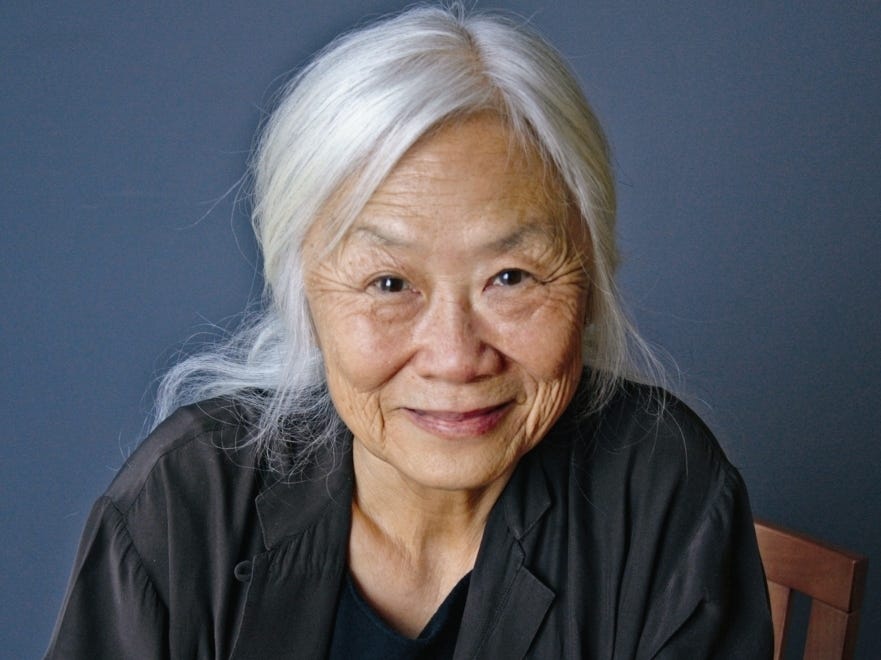 Photo: Michael Lionstar via
NPR.org
. Sources: Paul Skenazy and Tera Martin, eds.,
Conversations with Maxine Hong Kingston
(Jackson: University Press of Mississippi, 1998); Donna Perry,
Backtalk: Women Writers Speak Out
(New Brunswick, NJ: Rutgers University Press, 1993).
---
"THE WHOLE THING FELT REFLECTIVE"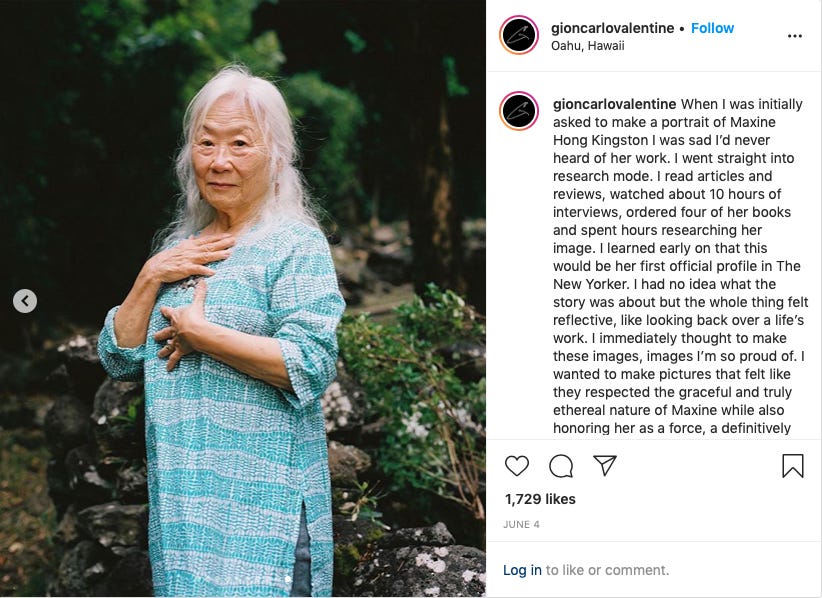 On Instagram, the photographer Gioncarlo Valentine shared some wonderful excepts from his portrait session with Kingston for the New Yorker, as well as some background on his research process to prepare for the shoot.
---
"EVERYWHERE I GO IT SMELLS THE SAME, AND IT SMELLS LIKE MY BREATH."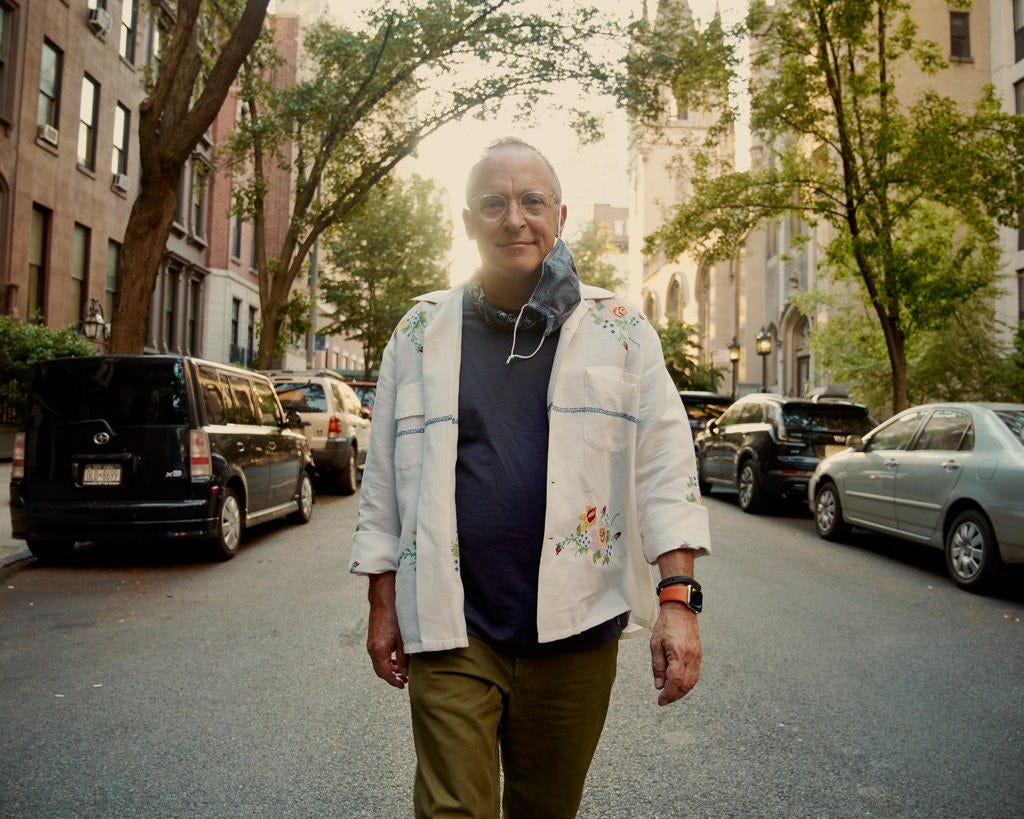 Leave it to David Sedaris to come up with the most impressive/compulsive coronavirus routine I've come across yet: According to an interview with the New York Times, the author has been walking up to 20 miles a day, motivated largely by a desire to "destroy" his Fitbit friends. The Times writes:
He generally has two outdoor shifts, the second after midnight, so that he (or Fitbit) can apply those miles to the next day's tally. "I like to start the next day with six miles under my belt," Sedaris said.
---
"WORK, RIGHT NOW, IS TRAUMA"
I really appreciated Anne Helen Petersen's recent video talk on Rethinking Productivity Culture (below). "The very notion of pandemic isolation unlocking some deep well of creativity and productivity—that feels bonkers to me." Yes!
---
WRIGGLING THROUGH
🐛
Having trouble finding time for a creative project alongside your other daily obligations? Or feeling stuck, blocked, or discouraged during the time you do have? Email your dilemma to subtlemaneuvers@substack.com (or just reply to this email) and I'll do my best to provide some concrete advice based on my research into great minds' work habits.
Previously, I've tackled readers' questions on:
---
Thanks for reading! This newsletter is free, but if you're feeling generous here are a few ways you can support me and my work:
Order my Daily Rituals books from Bookshop.org or (if you must) Amazon

Forward this newsletter to a friend, or share it on your social-media feeds